Greetings and welcome to the Online Junto Society. As you can tell, this is the first official post of the blog.
Ok, Cool! You must be thinking to yourself "What is the purpose of this blog?". Well, the purpose of this blog can be summed up with the following phrase: "Self-Improvement". And what better name to give a blog dedicated to Self-Improvement than "The Online Junto Society".
Now, you must be wondering "What exactly is a Junto?". The Junto was the name given to the Self-Improvement club created by Benjamin Franklin, during the early Eighteenth-Century. The Junto was established for the sole means of mutual self-improvement. Through much discourse and debate, Junto members were able to share thoughts and ideas that ranged from politics to literature.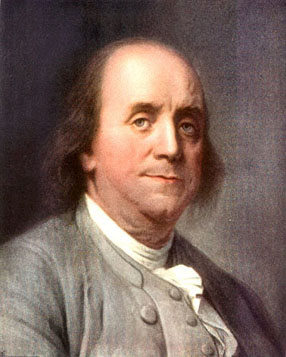 Benjamin Franklin-
A Pioneer of the word Self-Improvement
Thus, in this Junto, we will discuss a variety of topics that will aid into your Self-Improvement. I am well aware of the fact that people have different goals in life. But regardless how big or small your goals may be, it still requires effort in achiving the goal and we are here to help. In the Online Junto Society, we want to make sure that you are able to be your ideal-self and hopefully, our blog posts will be enough to set you towards that right direction.
I wish you the best!
~X